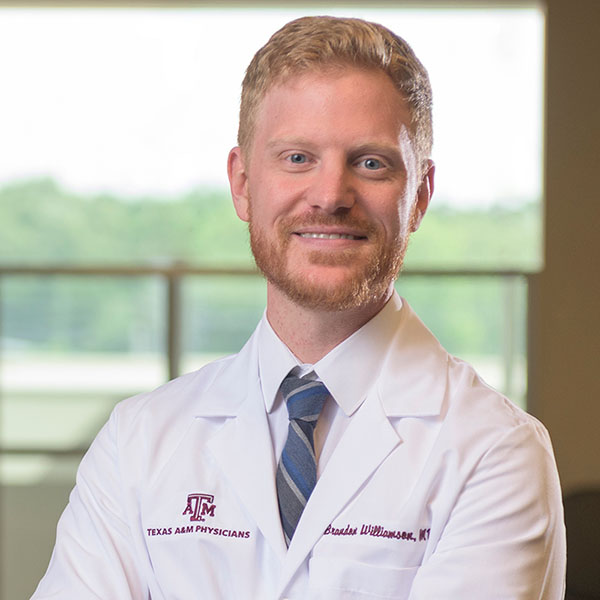 About
Dr. Williamson is board-certified in family medicine and works as a primary care physician at Texas A&M Health Family Care. He has expertise in endoscopy, maternal-child health and obstetrics including ultrasounds and operative obstetrics.
As a member of the Cancer Prevent and Research Institute of Texas (CPRIT) grant project team, he provides clinical services in breast, cervical and colorectal cancer screenings and prevention.
Dr. Williamson completed medical school at the Texas A&M College of Medicine and completed residency at John Peter Smith Family Medicine Residency, where he also completed an area of emphasis in endoscopy and a fellowship in maternal-child health. He is happily married to Dr. Meredith Williamson, the licensed psychologist at Texas A&M Health Family Care.
Credentials
Titles
Clinical Associate Professor
Associate Program Director, Texas A&M Family Medicine Residency
Education & Training
Texas A&M University, BS, 2013
Certifications
Board Certified in Family Medicine
Common terms and phrases related to the health care services provided by Brandon Williamson
endoscopy
ultrasounds
breast cancer screenings
colorectal cancer screenings