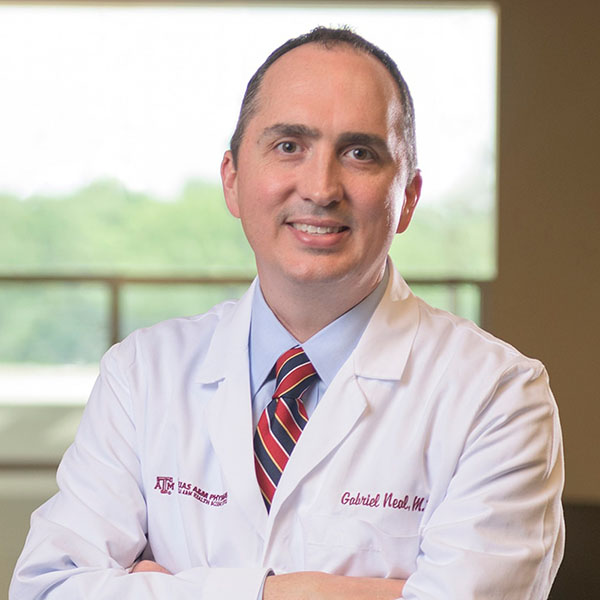 About
Dr. Neal is a board-certified Family Medicine physician and Fellow of the American Academy of Family Physicians. Having practiced family medicine since 2006, he is currently Texas A&M Health Family Care's medical director.
A few of his special interests are medical ethics, international medicine and obstetrics. In the clinic, he enjoys helping people of all ages become healthy. Dr. Neal works with his patients to prevent and treat chronic illnesses like heart disease, diabetes and asthma as well as treat acute illnesses and other ailments like the flu, rashes and minor injuries. He excels at explaining health topics to people of all ages in ways they can understand.
Dr. Neal earned his medical degree from the University of Oklahoma School of Medicine and graduated from Trinity International University with a Master of Arts in Bioethics. He and his wife have five children together.
Credentials
Titles
Acting Department Head
Clinical Associate Professor
Chief Clinical Officer, Texas A&M School of Medicine
Family Medicine Clerkship Director, Texas A&M Integrated Medicine Program
Faculty, Texas A&M Family Medicine Residency
Director, Texas A&M Health Family Care Clinic
Education & Training
University of Oklahoma, College of Medicine, MD, 2001
Grant Medical Center, Family Medicine/Obstetrics Fellowship, 2006
Trinity International University, Chicago, MA, Bioethics, 2012
Certifications
Board Certified in Family Medicine, ABFM
American Academy of Family Practice
Common terms and phrases related to the health care services provided by Gabriel Neal
heart disease
diabetes
asthma
flu
rashes