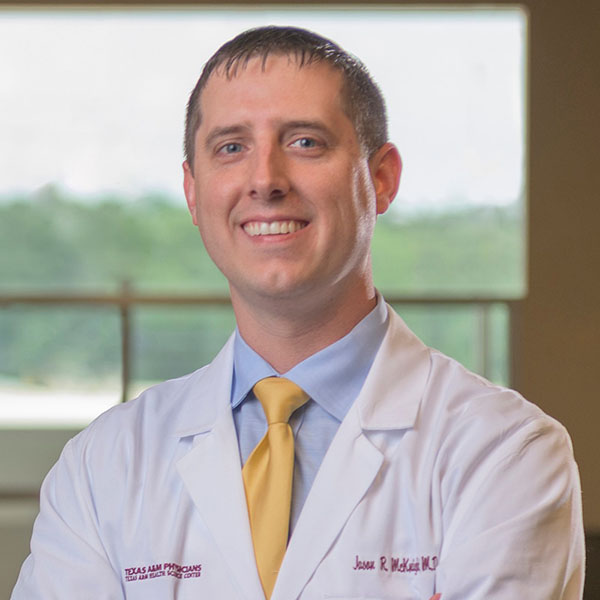 About
Dr. McKnight is a board-certified Family Medicine physician from the rural east Texas town of Chester. He is a current member of the Texas Medical Association (TMA) Leadership College Class of 2019, and a voting member of the TMA Committee on rural medicine.
During his medical residency, he received special training in primary care endoscopy, especially as it relates to colorectal cancer screening. He is currently the director of a grant improving colorectal cancer screening access to rural and underserved communities. Dr. McKnight is also heavily involved in both undergraduate and graduate medical education, specifically relating to primary care medicine, hospital medicine, primary care endoscopy, health care policy and patient advocacy. He has co-authored a book section on lower gastrointestinal conditions, and writes occasional blog posts on a variety of medical related topics for patient education.
Dr. McKnight earned his medical degree from the University of Texas-Houston Medical School (now McGovern Medical School). He also graduated from Texas A&M University with a Master's degree in nutrition and metabolism. Dr. McKnight is married to a local veterinarian, and he enjoys spending time outside, with family, and on his family's cattle ranch.
Credentials
Titles
Clinical Associate Professor
Director of Residency Recruitment-Texas A&M Family Medicine Residency
Education & Training
Sam Houston State University, BS, Animal Science, 2008
Texas A&M University, MS, Nutrition (Amino Acid Biochemistry/Metabolomics), 2010
University of Texas Health Science Center-Houston Medical School (McGovern Medical School), MD, 2014
Texas A&M Family Medicine Residency2017
Certifications
Board Certified in Family Medicine (2017)
Common terms and phrases related to the health care services provided by Jason McKnight
colorectal cancer screening