Rajesh C. Miranda,PhD
Professor, Department of Neuroscience and Experimental Therapeutics
Interdisciplinary Program in Neuroscience
Component
Specialties
neuroscience, addiction, neurobiology, fetal alcohol disorder, drug abuse, neural stem cells, alcohol
Contact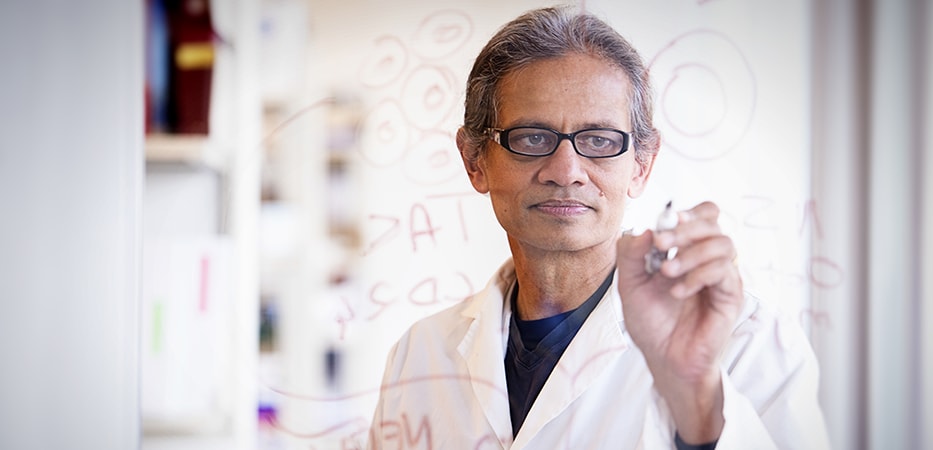 About Rajesh C. Miranda
Rajesh Miranda, PhD is a professor of Neuroscience and Experimental Therapeutics at Texas A&M University Health Science Center, School of Medicine. His research focuses on developmental neurobiology, neural stem cells, epigenetics, and drug abuse, with a specific emphasis on Fetal Alcohol Spectrum Disorders (FASD).
Among his contributions, in 2007 his research group was the first to show that microRNAs could mediate the toxicity and teratogenicity of drugs of abuse like alcohol (PMCID:2915840). Ongoing pre-clinical research focuses on understanding the function of microRNAs and other non-protein coding RNAs on the growth and maturation of fetal neural stem cells using a variety of vertebrate, including mammalian models (e.g., PMCID:4133727).
Ongoing research in human populations focus on assessing secreted microRNAs as predictive biomarkers for infant birth outcomes (PMCID:5102408). He served as chartered member and chair of several NIH grant review panels and is a past-president of the FASD study-group, an affiliate of the Research Society on Alcoholism.
He also served on the Steering Committee for FASD prevention at the Texas Public Health Service Office for the Prevention of Developmental Disabilities, where he co-chaired a workgroup to assess FASD prevalence in Texas. Dr. Miranda received his doctorate degree in 1989 in neurobiology and biopsychology at the University of Rochester, Rochester, NY and completed postdoctoral training in neuroendocrinology at Columbia University, New York, NY. He joined the faculty at Texas A&M University in 1995.
Miranda
fetal alcohol syndrome
1