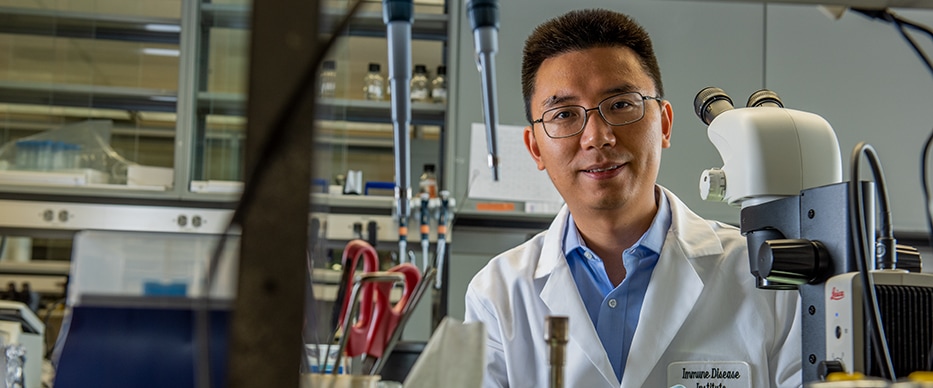 About Yubin Zhou
Yubin Zhou, MD, PhD, is an associate professor Texas A&M Institute of Biosciences & Technology. His research interests focus on elucidating the role of ion channels and epigenetic modifications in health and disease, and developing novel anti-cancer therapeutics and optogenetic platforms for disease intervention.
Dr. Zhou serves as an associate editor for Current Molecular Medicine and sits in the editorial board of Molecular and Cellular Biology, Frontiers in Molecular Biology and Scientific Reports. He holds four patents and has published over 80 peer-reviewed journal articles, reviews and book chapters. Zhou's recent work in calcium channels, phospholipid metabolism, optogenetics and immunoengineering was highlighted by Nature Cell Biology, Nature Structural and Molecular Biology, Trends in Biotechnology, National Institute of General Medical Sciences and was featured in multiple media outlets. His ongoing research is supported by multiple grants from the National Institutes of Health, Cancer Prevention & Research Institute of Texas, the Welch Foundation and the American Cancer Society.
Dr. Zhou received his medical degree and clinical training in Internal Medicine from Zhejiang University School of Medicine and Master of Science in chemistry and in 2008, doctorate in biochemistry from Georgia State University.
Dr. Zhou was the recipient of the Leukemia & Lymphoma Society Fellow Award and Special Fellow Award, the American Cancer Society Research Scholar Award, and the Texas A&M School of Medicine Research Excellence Award.