Register Today for the 2021 Virtual Clarion Case Competition!
The Office of Interprofessional Education & Research (IPER)
invites all TAMU Health students to register for the
Annual Clarion Case Competition
Register Here
Deadline: February 7, 2021, 11:59 p.m.
 What is the Clarion Case Competition?
Interprofessional teams of students compete by presenting a root cause analysis of a fictitious sentinel event to a panel of senior-level health executives. Students compete at the local level, and the winning team then represents TAMU Health at the national competition. Clarion provides students with an opportunity to focus on issues of quality and patient safety in healthcare.  Scholarships are available to the top 3 teams in the national competition.  Because of the COVID-19 Pandemic, both the local and national components of the competition will be online in 2021.
Competition Dates & Times
 Required Orientation     Wednesday, February 10              5:30 pm - 6:30 pm
Local Competition           Saturday, March 6                          9:00 am - 12:00 pm
National Competition      Friday & Saturday, April 9-10        TBD
 More Information
 Learn more about the Clarion Case Competition here.
 Previous Competitions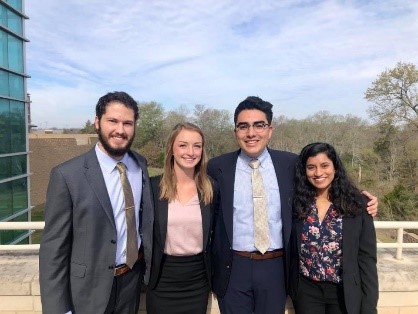 The 2020 local winning team was comprised of Prerana Jasti (Public Health), Bailey King (Medicine), Juian (Lex) Lopez (Pharmacy), and Jacob Sellers (Pharmacy).  (The 2020 national competition was canceled due to the COVID-19 pandemic.)

The 2019 local winning team was comprised of Soumya Pathuri (Medicine), Travis Burdick (Public Health), and Macy Anderson (Nursing). They captured 3rd Place at the National Competition! Read more in Vital Record.