IPER 6 Symposium
Wednesday, November 18, 2020
9:00 am - 4:30 pm
Via Zoom 
Registrants will be sent connection information
before the event.
Poster Abstract Submissions
Deadline: Sunday, October 25, 2020, 11:59 pm
Symposium Registration
Deadline: Sunday, November 1, 2020, 11:59 pm
Faculty Poster Judge/Facilitator Sign-up
Deadline: Sunday, November 8, 2020, 11:59 pm
Excellence Award Nominations
Deadline: Monday, November 9, 2020, 12:00 pm
(Extended Deadline!)
Symposium Overview
All faculty, staff, students, and community partners are invited to attend the 6th Annual Interprofessional Education & Research Symposium. The theme is Collaborative Practice in Times of Crisis: Building Team Resilience during a Pandemic. Below are our keynote speaker, panelists, and agenda for this event, which last year included more than 500 participants.
Keynote Speaker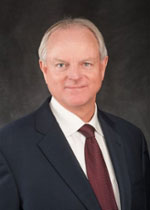 Gerald Parker
Associate Dean
College of Vet Medicine
Symposium Agenda
| | |
| --- | --- |
| 9:00 AM-9:30 AM | Welcome Session |
| 9:30 AM-10 AM | Poster Viewing Session |
| 10 AM-10:30 AM | Poster Discussion Session |
| 10:30 AM-11:30 AM | Keynote Speaker |
| 11:30 AM-12:30 PM | Break |
| 12:30 PM-1:30 PM | Panel Discussion |
| 1:30 PM-1:45 PM | Break |
| 1:45 PM-2:45 PM | Interprofessional Student Activity |
| 2:45 PM-3:15 PM | Interprofessional Student Activity Debrief |
| 3:15 PM-3:30 PM | Break |
| 3:30 PM-4:00 PM | Tools for Resilience |
| 4:00 PM-4:30 PM | Awards / Wrap Up |