Lisa F. Mallonee,BSDH, MPH, RD, LD
Professor, Graduate Program Director, Caruth School of Dental Hygiene
Component
Specialties
oral health, oral hygiene, preventable diseases, diet, nutrition
Contact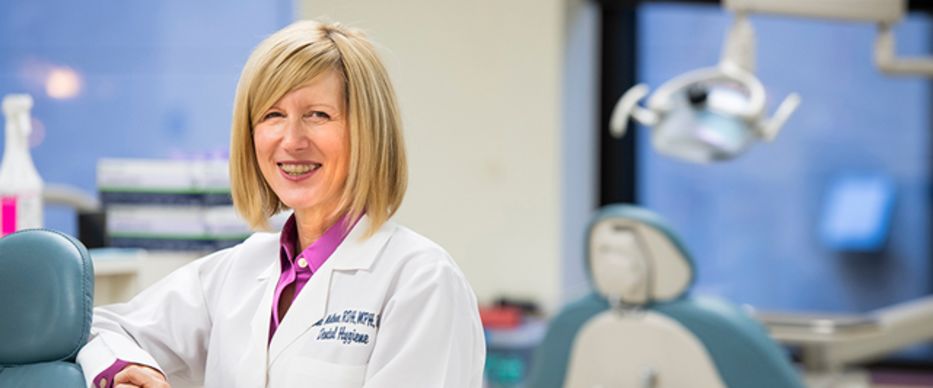 About Lisa F. Mallonee
Lisa Mallonee is a professor and graduate program director at the Caruth School of Dental Hygiene.
She received her Bachelor of Science in dental hygiene and her Master of Public Health with a coordinated degree in nutrition from the University of North Carolina at Chapel Hill. Mallonee is also a registered and licensed dietitian.
Mallonee presents continuing education courses to a variety of professional groups both nationally and internationally. She is a published author in dental textbooks and peer reviewed journals on multiple topics pertaining to diet, nutrition and oral health and the practical application to whole body health for dietetic and dental professionals. She currently teaches courses in public/community health and nutrition, provides lectures in the predoctoral dental curriculum, and oversees practicum placement and thesis research as co-director in the College of Medicine's Education for Healthcare Professionals graduate program. Additionally she serves as a preceptor for the Baylor University Medical Center Dietetic internship program.
Mallonee has served as a reviewer and expert content advisor on numerous publications for the Journal of the Academy of Nutrition and Dietetics, Journal of the American Dental Association, the Journal of Dental Hygiene and organizations such as the National Diabetes Education Program, National Maternal & Child Oral Health Resource Center and the American Dental Educators Association.